Based in Delhi, Namrata Kohli is a writer and a journalist who has earlier worked with The Times of India group and Hindustan Times, and is currently a contributing editor for Business Standard. She also works with the Ministry of Culture and is a content advisor for Digital District Repository, under Azadi Ka Amrit Mahotsav,with the Centre for Cultural Resources and Training. Not just that, Namrata is also the author of Culture during Crisis and Corona Positives. We caught up with her for a chat about her books, her thoughts on the lessons which the Covid pandemic taught us and her views on the need to preserve Indian heritage and culture.
You studied journalism at IIMC and then worked with leading media houses like Times Internet, HT and Business Standard. Tell us a bit about the journey? What was it that drew you to journalism?
I was a 14-year-old when my Nanaji, a man of letters and someone who placed great importance to the written word and education, prodded me to participate in a certain essay competition on 'International Literacy Day,' celebrated on 8th September. Frankly speaking, I participated only and just for his sake, since I couldn't say no to him. Little did I know that this would end up with me getting a national award from the then President of India, Dr Shankar Dayal Sharma. That was a turning point in my life and the start of my writing career. In the next few years, I was determined to write, write and write. I was a regular at all creative writing competitions and won my school and myself many accolades. Since my mother would file all my certificates and write all my scripts, I would credit her above everyone else for anchoring my career. My father and brother, both IITians, always supported my decision for what was an unconventional career.
I studied English Literature at Delhi University and during those three years, I got 150 bylines writing for mainstream media. But I wanted to do post-graduation and after IIMC decided to take the plunge into the dotcom boom with Times Internet. I worked in the fashion channel and later astrology, and understood the digital medium, but my heart lay in print and I continued to freelance for TOI print. I also got to work with Times Property and, later, with Hindustan Times, where I got a chance to drive content, strategy, and work on HT Premium Homes, a lifestyle home supplement. Business Standard happened much later, in 2018. It's a wonderful brand to work with and adheres to some of the highest standards of journalism.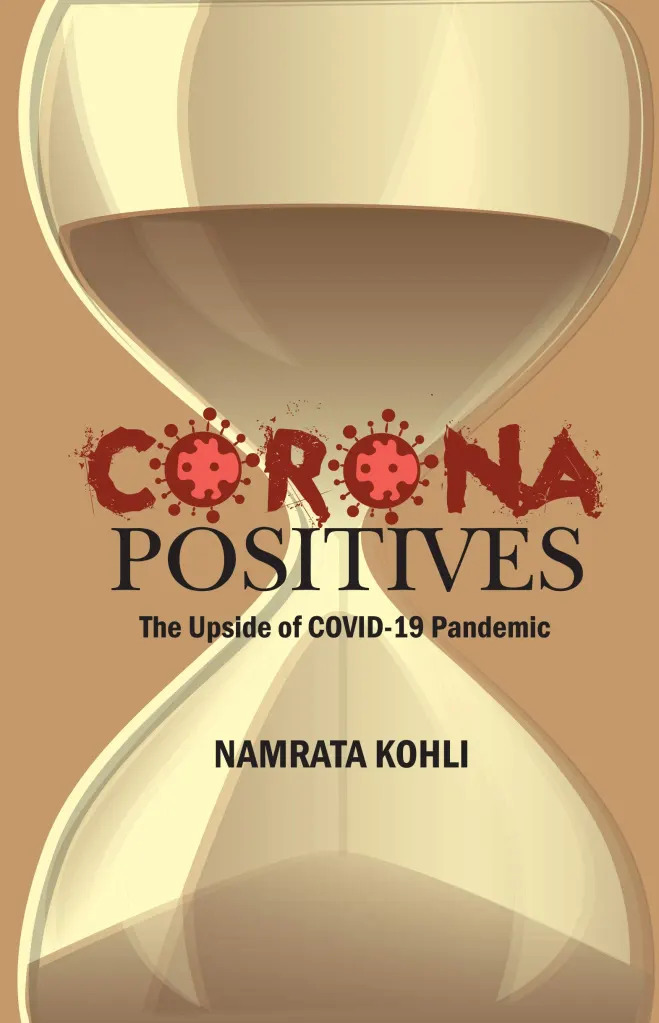 '2020 was a golden period to introspect, to evaluate our personal and professional selves, to correct past mistakes and to reboot and reset,' says Namrata
Let's talk about your book, Corona Positives. In the overall 'doom and gloom' scenario associated with Covid, how were you able to look at the positives and what inspired you to write the book?
If I examine the set of stories being written in 2020, they were all extremely positive themes. I saw myself writing on subjects ranging from how online learning was catching up, or the era of e-vehicles coming and the bicycle boom. There has been a return to roots and ancient wisdom, back to nature, minimalist weddings, how tech has made WFH possible, how health is the true wealth. I thought this can't go undocumented and I need to write a book with chapters having my personal take on each of these. By the way, the second wave had not come [when the book was written] and I nearly felt guilty about the word 'Positives' in the book's title during and after the second wave, as things were marred by deaths on an unprecedented scale.
But take the case of just the year 2020 and it really changed things for the better. It was a year which had us locked us inside our homes. But when you can't go outside, you go inside. In that sense, 2020 was a golden period to introspect, to evaluate our personal and professional selves, to correct past mistakes and to reboot and reset. Covid-19 times have allowed us to create a better version of our self. A year which pressed the pause button on excesses and the culture of indulgent living, whether it was the big fat Indian wedding or chasing big branded luxury products. We realised that the true luxury of life lies in smaller, simpler things which money can't buy.
I think in many ways, the worldview has changed from flaunting to experiencing, splurging to saving, living in the moment to adopting best practices that strengthen not only one's present but lay foundation for a solid future. But humans only being human, things are cyclical – look at how wastage, maximalism and big fat Indian weddings etc. are back.
Culture during Crisis distills the best learnings from India's cultural landscape
Did your work with the Sanskriti Haat Samiti inspire you to write your second book, Culture during Crisis? Despite India's advancement in the world in recent years, why are Indians still keen to ape the West in every which way possible, while disregarding their own heritage and culture?
My book was out by the time I was invited to be on the panel of Sanskriti Haat Samiti at CCRT, Ministry of Culture. They say if you want something very passionately, then the entire universe conspires to make things happen. I was eating, breathing, living culture; even at home, I got my children to learn Indian classical music from a fairly young age. I feel the kind of refinement of the senses that happens with our classical art forms is incomparable to any Western art form.
As for why Indians ape the West, this has to be seen in the context of our history. We were ruled by the Portuguese, the Dutch and the British for 200 years. The British left India only 75 years ago and the country became independent. But are we really free? Even today are minds are colonised. Take a look at the way we speak, how we dress, what we eat, how we live – we are chasing quinoa over amaranth, avocado over amla, olive oil over desi ghee, guitar over sitar, ballet over Kathak, and Spanish over Sanskrit. There is nothing wrong in learning from other cultures – it only enriches and enhances you – but not at the cost of denigrating your own. Today, Indians are disinterested in everything Indian and have an obsession with everything Western. It is our duty to revive our lost practices. For that we need to appreciate and celebrate what is inherently our own – our traditions, our clothing, our jewellery, our festivals, our food, our architecture and most of all our languages.
For a country like India, our cultural capital is the biggest asset we have. After all, we are trustees of a great legacy and we should live it, and pass it on by adding value. Let's not forget that culture and spirituality is the gene and lifeblood of our nation. Once we lose that, we lose ourselves and who we are. If we don't celebrate our legends, we have no history to be proud of. The point is, do we want our culture to become some kind of a dinosaur, extinct and unwanted, or a relic on some dusty bookshelf, a chapter in our history books, or a white paper in an academic exercise? Or, instead, do we want it to be a living, breathing, dynamic entity that organically grows and evolves into something meaningful and becomes a beautiful part of our life? The disintegration of Indian culture is a process that has been slow but steady – much like the boiling frog apologue. It is because we are unwilling to react to or be aware of the sinister threats that arise gradually rather than suddenly, that we become the losers in the long run. Abandoning our culture has become a norm, but this has not been written about in depth. It is never too late to start [the process of reversal]. Our Prime Minister Narendra Modi has called the period starting from 15 August 2022 till the next 25 years, i.e., till the time India achieves hundred years of independence, as the Amrit Kaal. This is the time for India's cultural renaissance.
What are some of the highlights of Culture during Crisis? What elements of Indian / heritage that is in serious need of preservation, failing which it might disappear forever? How can this be remedied?
Sanskrit needs to come back. Our Indian philosophy texts have been mostly written in Sanskrit and are at a very high intellectual level. In fact, there is no parallel of this anywhere in the world, and I am making this statement with great responsibility. Vernacular languages must also be practiced as language is not just a means of communication but the lens through which we see our world. What we wear is important – we have all grown up watching the women in our families wearing graceful sarees but how many of modern Indian women wear those even once a month? So everything is important – what you wear, what you eat, your entire lifestyle and ethos, how you decorate your home. India is still the most hand-skilled nation in a world of rapidly de-skilling communities. But how many of us value our handicrafts?
Classical music is the sound of our heritage. It has power to awaken chakras and is the most incredible audio energy that we have – after all, Indian culture is one of oral traditions and things are transmitted from one generation to another by word of mouth. The Brahmand is made up of sound energy and it is these vibrations which are the notes of our classical music and dance, and hence they touch us deeply. What we drink is equally important. Having carbonated water with loads of sugar is not Indian culture. Bel sharbat, nimbu pani, even chai define our culture much better.
Every aspect of our culture has some meaning – even our ancient architectural practices of vastu shastra and shilp shastra are so profound. Ditto for native food. And if you are culture compliant, you will automatically be climate compliant too. Most of our ancient rituals help us tune up with nature and live a healthy lifestyle. Spirituality is the gene and lifeblood of Indian culture.
While researching Culture during Crisis, did you meet some particularly interesting people? Any memorable stories that you'd like to recount here? Do you think the book should be included in school/college curriculums, in order to encourage a greater understanding and appreciation of Indian culture among young people?
Yes, I met gems of persons while doing my book. For instance it was an experience of a lifetime to have met Shriji Arvind Singh Mewar, 76th custodian of the House of Mewar, whose brand Eternal Mewar stands for living heritage. He said to me, 'Take pride in your roots. It's the only thing you have, and you simply cannot allow your identity to go away. For a young nation like India, heritage is supremely important for its identity, image, and inspiration.' Or the Honourable Vice President of India, Shri M. Venkaiah Naidu, who spoke about the legacy of languages. 'We must remember that language only gets nourished by constant use,' he said.
It was also an amazing experience to have this book launched by Dr Subramanian Swamy, whom I consider India's best culture crusader. He liked the concept so much that he called me to his own show, 'Gyan Ganga,' which has a huge fan following. Being interviewed in front of a global audience was such an honour. Then, it was great to have met Sadhguru, who said, 'What then makes us a single entity? The reason is unique to India. And it is this: India is not a land of believers. This is a land of seekers.'
I would be thrilled if this book actually becomes part of the curriculum in schools. Culture during Crisis is not just a book but a thought movement that needs to happen. We are a civilisation which is 5,000 years old and we cannot let go of our legacy just like that. I'm happy to discuss these topics with any educational institution. Culture comes at a grassroots level – while the foundation of a child is being laid.
Personally, what kind of books do you enjoy reading? Any favourite genre? Favourite authors? Any books that you're particularly looking forward to reading in 2023?
I enjoy books which inspire me. I don't like those which take me away from reality. I find it hard to read fiction and fantasy in particular. I like to read things which help me improve myself and help me create a better version of me. The idea of reading is to feel enriched. Also a sense of familiarity with the author becomes necessary for me; it has to be a person I align with and feel inspired to read. I am a big fan of Oprah Winfrey and her autobiography was of great interest. Even Michelle Obama. And Wings of Fire by Abdul Kalam. I like books based on human interest stories such as autobiographies or even history. I loved Homo Deus by Yuval Noah Harari.
I am looking forward to reading quite a few this year. My desk has Bravehearts of Bharat by Dr Vikram Sampath and Revolutionaries by Sanjeev Sanyal. Since I am leading project Digital District Repository (DDR) as Content Advisor at Azadi ka Amrit Mahotsav portal, these books are part of my research and I feel they have some hitherto hidden but now well documented historical narratives.
Namrata's books are available on Amazon. You can also visit her website and follow her on Twitter