Social entrepreneurs, corporates and communities showed how collective efforts are key to solving any crisis at a time when government and health systems are overwhelmed
Namrata Kohli

|

New Delhi
The inspiring work by India's social entrepreneurs and its the corporate sector needs to be celebrated. Stories on the ground demonstrate how India's development sector plugged in the many gaps that were left due to logistical and operational difficulties at places, ensuring last mile delivery especially to the poor, marginalised and rural communities.
As people lost lives, corporate India did not stay behind in lifting the morale of their people by making certain announcements. For instance, Reliance offered full salary for five years to the families of deceased employees, apart from paying for the children's education. Many Tata group companies such as Tata Steel and Tata Motors said they would continue to pay salary to the deceased employee's family till the retirement age of 60 years. And several others followed suit.
The private and social sectors came together like never before to find immediate sustainable solutions to the pandemic induced crisis. According to Anu Prasad, Founder-CEO, ILSS (India Leaders for Social Sector (ILSS), a Delhi-based non-profit that works to strengthen the leadership talent pool in the social sector), "Collaboration and partnership were the critical levers of the Covid response in India since March 2020. The social sector was the first respondent to the crisis while providing critical relief to the most marginalised communities hit by the pandemic and running large-scale fundraising campaigns to mobilise resources for oxygen, food."
Prasad said the social sector worked alongside the administration to provide the first level of relief and work on creating awareness around Coronavirus (Covid-19) protocols and is now tackling vaccine hesitancy. The pandemic has proven that no solution to the deepening inequality can come from one sector alone; it needs a holistic approach where society, markers and government work in tandem.
She cites the instance of the ACT grant, a volunteer-led initiative by 34 Indian entrepreneurs and 44 venture capital funds, providing Rs 100 crore in monetary grants for ideas and companies that combat the Covid-19 pandemic and fund education, healthcare, environmental and gender diversity solutions.
Social workers were in the line of fire and on the frontline. If healthcare workers were fighting the medical battle, social sector workers were fighting the socio-economic battle. Anshu Gupta, popularly known as the Clothing Man, Founder of Indian non-profit organisation Goonj, highlights the efforts of social sector workers. "Many lives were lost and social sector workers were mentally impacted as we were face-to-face with disaster day in and day out plus some of the families were also afflicted. The social development sector performed extremely well. We have done almost 10 million kg of food material pan India, he said.
Credits: Adani Vidya Mandir COVID Care Center
"Every other person was talking of sanitising and if you brought even half a kilo of veggies, you'd wash it thoroughly. Imagine the exposure our teams faced when they dealt with truckloads of such material and did not care whether the truck or the driver was sanitised. Their risk was much higher but this is not spoken about," Gupta adds. He says he is extremely proud that none of his team members went back to their hometown, or even called up to check if they would be paid salaries or not. Their trust and commitment stood out in every way, he says.
Oxygen crisis
One of the best examples of community efforts in India during the Covid-19 second wave, was that of Oxygen langars at gurudwaras. It was the extraordinary story of a first-of-its-kind "humane supply chain" driven by perfect intent and execution. Many NGOs were actively involved in this task. Says Irinder Singh Ahluwalia, founder and CEO of Hemkunt Foundation: "In the second wave of Covid, people had no oxygen and were unable to breathe. We had volunteers in 19 states across India, who would take your call and help you in providing oxygen concentrators and cylinders. We had 100 volunteers just in Gurugram giving oxygen kits free of cost, plus a drive-through oxygen langar and an oxygen centre of 500 beds in a makeshift hospital in Gurugram."
In the near future, Hemkunt foundation is setting up micro health clinics and mobile clinics in rural India and a not-for-profit hospital in Gurugram where patients are treated at very nominal cost.
Corporates put in their financial resources in this oxygen war during Covid-19 second wave. HCL, for instance, stepped up efforts to mitigate the oxygen crisis through the Shiv Nadar foundation, and supported the Delhi Government with 6,000 cylinders with capacity of 40 litres and 50 litres. It also sourced 21 ready-to-use oxygen plants from France (19), and Italy (2).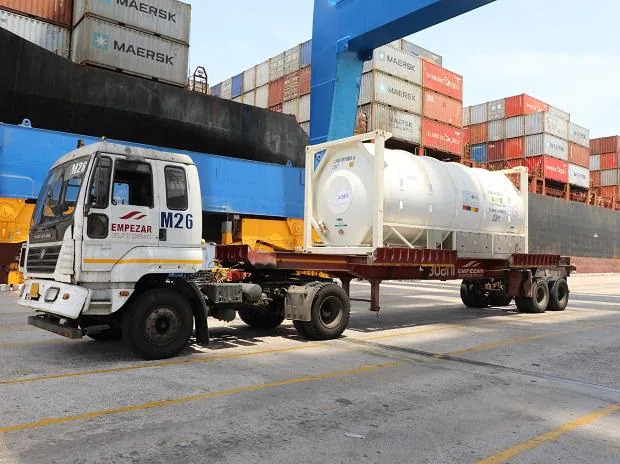 Credits: Adani Group imported cryogenic tanks and medical grade oxygen cylinders to bolster India's capacity against surging demand for oxygen during COVID second wave
Says Sundar Mahalingam, President–Strategy, HCL & Shiv Nadar Foundation: "The biggest challenge we faced was the demand and supply mismatch for oxygen plants and cylinders in India during the peak of the second wave. Multiple entities were trying to source oxygen supplies leading to a long waiting period for deliveries. However, given the urgency of the situation, we collaborated with the Delhi Govt. and the French embassy in India to source the plants from France and Italy."
Corporates used their organisational power and financial strength to help society in every way. The Azim Premji Foundation together with Wipro donated Rs 2,125 crore for combating Covid-19. Says Premji, "When the Covid-19 pandemic hit us last year, we drew up a comprehensive set of plans in humanitarian and healthcare aspects. In addition, we organised grassroots teams comprising 1,600 full-time employees, 55,000 employees from our partners, 10,000 teachers, and 2,500 alumni of our university. We also committed Rs 1,125 crore for Covid relief. However, as our work and situation evolved, we realised that universal vaccination was just as important and committed an additional Rs 1,000 crore for it. The foundation has committed more than Rs 2,125 crore for Covid relief measures across the pandemic."
His biggest inspiration, he says, has been his mother who set up a fully charitable hospital for children. He was also deeply influenced by Mahatma Gandhi's idea of trusteeship of wealth which in simple terms means that all of us must see ourselves as custodians of our wealth and not as owners.
Under Ratan Tata's leadership, the Tata group committed Rs 1,500 crore as a group to Covid-19 relief. Tata employees have, in addition, contributed tens of crores towards various response projects. One of their core areas is employment generation and Tata Trust's craft-based livelihood programme Antaran is working towards strengthening craft ecosystems and rejuvenating ailing handloom clusters, impacting the livelihood of thousands of weavers across Odisha, Assam and Nagaland.
Adani Foundation, which has presence in 2,410 villages across 18 states with a focus on education, community health, sustainable livelihood development and infrastructure development, helped reach out to the poor or rural communities, which are underserved and often overlooked, and become exceedingly vulnerable during such crisis like the Covid second wave. According to Dr Priti Adani, Chairperson, Adani Foundation, "The activities of the Adani Foundation were restructured to work around the prevailing Covid situation – ensuring that learning continues, healthcare reaches the needy, livelihoods thrive, nutrition requirements of people are met, and their daily lives continue to improve. Amid the Covid pandemic, while the healthcare infrastructure in India was under severe stress, the Foundation took many key initiatives towards the welfare of communities."
In March 2020, the Adani Foundation upgraded and converted GAIMS (Gujarat Adani Institute of Medical Sciences) in Kutch into a 100 per cent Covid hospital with all 800 beds equipped with oxygen support. Additionally, to secure continuous oxygen supply to patients, four oxygen plants were built in a short period. The Foundation converted the Adani Vidya Mandir, Ahmedabad (AVMA) School into an emergency Covid Care Centre with oxygen support. Adani Hospital in Mundra was converted into a Covid hospital with an additional CT-scanner installed for faster Covid diagnosis. Its bed capacity has been doubled with an oxygen facility. Converted Noida Indoor Stadium and Shooting Range into a Multi-bedded emergency Covid centre. Another Covid Care Centre was set up in Navayuga World School, Krishnapatnam (Andhra Pradesh). Two Covid First-Line Treatment Centres (CFLTC) with a combined capacity of 500 beds were set up in Kerala by working alongside the government. Also, installed a liquid oxygen storage tank of 13 KL capacity at Government Civil Hospital, Gondia, Maharashtra; provided oxygen cylinders and concentrators to the district administration, Bhadrak, Odisha and secured three vaporizer systems of 1,000 m³ and two oxygen pressure reduction systems for New Civil Hospital, Surat.
During FY 2021-22, Adani Foundation through its various education initiatives such as Adani Vidya Mandirs, Utthan, Gyanodaya and many more has imparted quality education to more than 1 lakh students across the nation.
Credits: Goonj Collection Camp
Kiran Nadar Museum of Art (KNMA)
Art and the pandemic are closely related. With the pandemic, people have been largely stuck indoors, people have experienced great loss and devastation, people have been isolated from human interaction. But art can symbolise hope and survival, important aspects to stay strong and overcome the difficulties of the pandemic. According to Kiran Nadar, Chairperson, Kiran Nadar Museum of Art (KNMA) and a trustee of the Shiv Nadar Foundation, "The pandemic drew me closer to art. Spending so much time indoors in my home, I had the opportunity to relax and enjoy the artwork around me, it also gave me the chance to re-examine the art around me from different perspectives. It made me even more focused on promoting KNMA's mission to make art accessible to everyone."
She added: "The upcoming KNMA standalone building designed by Sir David Adjaye will give us a new platform and space to examine all kinds of art and cultural activities. This will be a state-of-the-art building located in the capital and will house our new museum and also a cultural centre. In this new space, we hope to build upon our mission and expand it by providing a hub of creative education for all. We hope to make people more aware of the importance of art and the role it plays in shaping our society."
Art should be accessible to all. One of the most effective ways to highlight this is through public art. KNMA did a digital series called "Art Meets Street' which explores and engages with street art and artists in India. They also organised a live flash mob in a Delhi mall to bring a Raja Ravi Varma painting to life and are working with schools, colleges, and NGOs, holding workshops, activities, discussions and digital series. These series included things like Saturday Workshop for kids, 'Artist in Me' workshops, DIY Workshops, Art X series, Craftopia summer camp, online Film Festivals, virtual walkthroughs and exhibitions and much more. All these series are free and are accessible online through KNMA's social media pages.
Philanthropy: Learnings & Trends
The concept of giving is no longer limited to people of a certain age group. In fact, the average age of giving in India is dipping every year, indicating a giving mindset demonstrated by the younger generation. This could be driven by the fact that there is an increase in disposable income and rise in awareness levels when it comes to social issues, through social media, WhatsApp forwards, etc.
Credits: NGOs like Hemkunt foundation were filling in the Oxygen Gap during the Covid second wave, by providing Oxygen cylinders and Concentrators across the length and breadth of the country
It also proved that it's not just money that is needed. "Time, skill, and money are the three ways you can contribute to anything in this world. You decide which one, or what mix of these things you can give. The question is: how much to start with?" Says actor and philanthropist Rahul Bose, founder of The Foundation. "One reason why people 'dry up' in the social sector is that they don't choose the cause that is closest to their heart. Step in for the right reasons."
Indian mindset needs to come out of an "event based" or "religious charity" system, suggests Goonj's Anshu Gupta. Do it on a regular basis instead, make it a way of life. Gupta nudges everyone to work for society even during normal times, in some way- "I often say it in my lecture that when you have poverty as the biggest disaster, why are you waiting for a flood or a famine to happen in order to donate or respond to it." This pandemic proved that if you want to develop this country and want it to prosper, then you need to start at the ground level, at the roots; in the villages and in the rural sector. We start working on malaria, we don't try to kill mosquitoes. We kill its effects, we don't kill the problem.