Modern digital and electronic home safety systems help secure your loved ones and your wealth at home in the post-pandemic era, while allowing you to stay connected with the outside world
Namrata Kohli | New Delhi
There are several safety devices for your home, such as key locks, and pin code and fingerprint-recognising locks. Today, even your smartphone can help monitor your main door while you're away at work
Modern security and safety products give you full control of your space even while you are miles away from home. You can use your phone to monitor your main door, respond to a doorbell or interact with visitors in real time. There are solutions that allow you to do all this through a host of options: keys, codes, and livestream verification.
Says 47-year-old Delhi-based housewife Pinki Shukla: "I was tired of staying at home just to receive a package or wait for the service guys. Now, with a video door phone and live streaming on my cell, I can allow automated access to cleaners and delivery boys. It's like I've been elevated from being a mere watchman of my house to an efficient house manager who is able to do surveillance even from a distance."
Hi-tech security solutions are fast becoming an integral part of contemporary lifestyle. There are four popular types of door locks. A key lock is, without doubt, the most tried and tested way of securing your home, and the one most people are familiar with. These locks require a physical key to unlock the door. Then you have locks that require a pin code to open the door. You don't need a key to unlock, which is handy if you have a large family or regular visitors. The third is fingerprint recognition. Most lock systems can store dozens of prints, making it easy for your family and friends to make a key-less entry. However, if the fingerprint is not stored in the system, you will still have to use a key or pin code. The fourth is the smartphone lock. Nowadays, the smartest locks connect to the internet and let you manage them remotely. Whether it's opening the door with your smartphone, adding an additional code for guests to use on entry, opening the door with your voice or teaching your door to lock or unlock when you're close by, these advanced systems offer a range of handy benefits. However, due to their need for power, these locks could fail when the batteries are too low.
The pandemic push
The pandemic has pushed security, accessibility, convenience to the forefront of people's priority list. Everybody wants to protect their home, assets, and loved ones. A recent research by Godrej Security Solutions titled 'Cocoon Effect on Home and Health Security' says 46.35 per cent Indians have shifted from aspirational expenditure to spending on home, health and security gadgets.
Gold, cash, people and digital data are things everyone wants to protect. Says Mehernosh Pithawalla, Vice-President, Godrej Security Solutions, "The pandemic has taken the concern for family to the next level where the focus is now on the safety of the members rather than just physical well-being. The survey conducted by GSS states that homeowners are now more focussed on protecting their homes and families, than on acquiring material possessions. Some of the top concerns have been keeping strangers out, and ensuring things entering the house are sanitised. Also, while people start attending office, keeping an eye on family members remotely has become crucial. We have seen a corresponding demand for UV (ultra violet) cases, video door phones and interactive home cameras."
Home security solutions
From televisions to home electronics, from jewellery to expensive paintings and artefacts, your home always has things dear to you that you would obviously want to guard. Whether it is your children or elderly parents who'll be alone at home while you're transitioning from WFH to office at least a few times in a week, adding a security system to your home gives you that bit of shield against potential intruders.
There are a host of products such as home lockers made by brands such as Godrej, Ozone, Savya Home Security, Yale, ISPA, Goldilocks; Home Cameras by the likes of MI, D Link, TP Link, CP Plus, Qubo; Home Video Door Phones by Panasonic, Godrej, Hikvision, CP Plus, Ring. Locks are made by the likes of LAVNA, Valencia, IPSA, Yale, Samsung, Atom Locks. (See Table below)
The regular mortice locks and handles have maximum market share in Tier-2 and 3 cities, whereas metros see a mix of digital and regular mortice. Says Naveen Brijvasi, owner of Wolf Enterprises, who markets his products with his brand Atom: "Having a digital lock makes no big difference to safety. Regular locks, in fact, are more secure. However, the former is ten times as expensive. Regular locks cost Rs 700-2,500 but digital ones come for Rs 10,000-15,000. The maximum demand is for the Rs 750 regular cylindrical lock. For the bathroom, people these days want a knob without a key." Regular conventional round locks are priced at Rs 3,000-4,000 at brands like Jainson Locks. Most of these products are available online and offline, and at distributor outlets and retail stores.
Ozone has digital security solutions priced between Rs 4,000 and Rs 2 lakh. For homes, there are digital locks priced between Rs 4,000 and Rs 20,000. These are for main doors, glass doors and aluminium doors and the lock opens with a password, fingerprint, RFID card or key. Says Seema Rathi, spokesperson, Ozone Secutech Pvt Ltd: "These days mobile is everything. People don't want to carry mechanical keys and want a hassle-free life. They can leave anything and everything but not their mobiles. We have recognised this need and created a system in which you can lock and unlock your main doors even if you aren't there physically."
A home locker is the safest way to secure your valuables as it is ten times stronger than your ordinary cupboard or wardrobe. It can safely be kept at home as it is very difficult to break into by an external force. The new range of NX Pro lockers from Godrej Security Solutions starts at a price point of Rs 6,499, while complex lockers are available from Rs 8 lakh to Rs 40 lakh. The Digi lock protects valuables with a unique 4 to 6-digit password. It has a non-volatile memory that remembers the password even when the batteries are replaced. The safe is smart enough to freeze after four consecutive wrong attempts.
At Ozone, the home safes are priced at Rs 15,000-30,000. Says Rathi: "With home safes, you don't need bank lockers. We have home lockers of different sizes and weights, and even have a grouting option into walls and wooden almirahs." She bemoans the tendency of people to cut corners when investing in security. "People often hire a local carpenter for grouting. Someone who is spending 15,000 on buying a home safe, has problem in spending Rs 700 (including GST) and opts for the local technician to do the job for Rs 200. The end result is that the job isn't professionally executed. Besides, you've let a rank outsider know where your tijori is located. A customer should always get the company or its authorised partner to install the safe."
The other big mistake people make while buying home lockers is keeping the keys inside the safe. The customer is mostly "super confident" that he will remember the password and ends up placing the key (which is a back-up option in case he forgets the password) inside the home lockers. About 80-90 per cent customer complaints stem from this practice only, says Rathi. Sometimes in 'fingerprint access option", the challenge is that senior citizens are often not able to scan as the skin texture changes as one ages.
Home cameras are another safety product that allow you to monitor your home while you are away. A video door phone will help you keep a track of the people entering your home through the door and take necessary hygiene measures. With built-in Wifi connectivity, you can now view your visitors and speak to them from your smartphone or tablet not just at home but also from anywhere in the world.
A home alarm system is easy to install. The alarm sensors can be fixed on any surface—door, wardrobe, safe, cabinet, drawer—that open and shut, or even behind a very valuable painting or artefact that you would like to make sure is not moved or removed in your absence. There are no messy wires and no need for an expert to install it.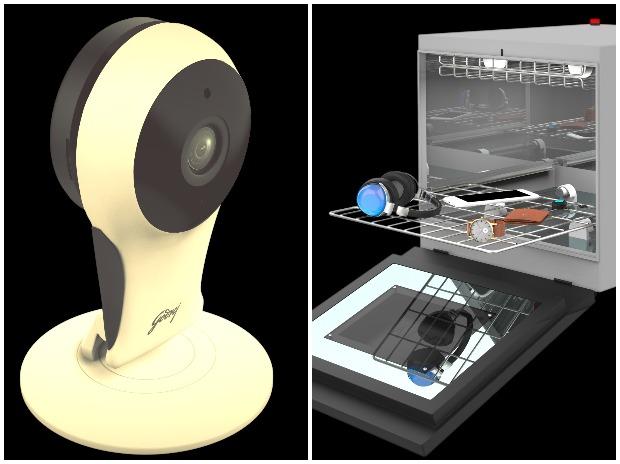 Godrej Security Solutions' EVE NX home camera (left) is easy to install and can be concealed. The 'UV Case' is used to sanitise objects before they enter your house
Gated communities
With security being a vital feature in a residential project, developers are increasingly focusing on providing state-of-art home security systems, including high-quality boom barriers and tripod or flap barriers. Post pandemic, there is a growing need for contact-less solutions. To meet this new requirement, some buildings offer UHF ID tag-powered entry systems wherein a boom barrier incorporates a scanner to read UHF cards on residents' cars. Says Shajai Jacob, MD & Country Head -Apna Complex & CEO–GCC, ANAROCK: "Security has been a top concern for homebuyers not just post-Covid-19 but even before it. Society management apps have seen increasing demand in recent years, and the pandemic has reinforced this demand. Several startups have proliferated over the last few years, allowing gated communities to enhance their security processes, track entry and exit of household help, manage visitors and deliveries, auto-generate gate passes, SMS-based panic alert systems, and so on. In several buildings, upon verification of antecedents, visitors are also given access to smart cards, which need to be swiped to gain access to the lift area, and to enter individual apartments."
Communities are using technology to improve safety and services of gated communities without having to make large investments in overhauling physical infrastructure. More and more innovations and features continue to be added in these apps. For instance Kalpataru Developers provides its residents with multi-tier security, consisting of guard verifications at the complex gate and building levels, CCTV monitoring, video door phones at both building entry and door level, besides access control via smart cards.
All visitors are screened by security guards at the complex gate, and personal and vehicle details are captured. Upon intercom verification with the homeowner, the visitor can proceed to the building. At the building level, a second check is done by the security guard and residents screen/interact with the visitors via a video door phone (VDP) system to decide whether or not to let him proceed to the apartment. At the apartment main door, the visitors can be again screened via a video door phone, if need be.
After hardware, secure software
While we protect our hardware, what about our software? Data in the wrong hands can compromise our safety. So how do we protect our digital assets?
Update your firmware as well as your access logs. In every hardware, there is an inbuilt software called firmware. Says Rakshit Tandon, Cyber Security Consultant, IAMAI (Internet and Mobile Association of India), "Whatever hardware devices we install at home for security, the first thing we need to check is the firmware of those devices, such as routers and IT cameras. The firmware needs to be updated. Secondly, all these security gadgets come with some default usernames and access passwords which the user needs to change at the time of installation. Even if you have an IP camera set up, the hardware guy installing the device will suggest that you don't change the password because he might need remote access to repair and maintain it. But that remote access is very dangerous as the hardware vendor can access the complete footage of your homes sitting in his office."
If you have a smart home system, make sure it's a closed system owned entirely by you. With a centralised smart control system, you benefit from the complete protection of your personal data and valuable information. Says Divyateja Kondeti, CEO, SmartDEN, a home automation provider: "Here are a few things you can do to ensure all your data is private and home secure. Your Wi-Fi router should be secured safely. There are two ways to access Wi-Fi router–connecting to a Wi-Fi network, and getting access directly to the router. Both the routes must always be kept very secure by a strong password to protect against dictionary attacks (A dictionary attack is attempt to guess passwords by using common words or phrases)."
Kondeti says the most used password is the word "Password" itself. Other common passwords include your name, names of your pets, dates of birth and similar data. The smart home apps that control the devices must be accessed securely and you shouldn't share the credentials or access to the app with unknown parties. Secure firewalls and use safe networks. When trying to access home devices like switches and plugs from outside the home network, making sure that right firewalls are installed, and that only authorised users/devices can get into the smart home network will help curb front door intruders.
Finally, it pays to be alert, vigilant and have enough deterrents in place. The idea is not to build mistrust within society and erect walls, but to build bridges. We can't have a world with too many locks, but not enough keys. It's important to have a connected society and security solutions empower you with that choice–whom to let in and out.
Table: Security solutions for your house
| | | |
| --- | --- | --- |
| Device | Key brands | Price range (Rs) |
| Home Lockers | Godrej, Ozone, Savya Home Security, Yale, ISPA, Goldilocks | 6,000-15,000+ |
| Home Cameras | MI, D Link, TP Link, CP Plus, Qubo, Godrej | 2,000-5,000+ |
| Home Video Door Phones | Panasonic, Godrej, Hikvision,CP Plus, Ring | 8,000-20,000+ |
| Digital Locks | LAVNA, Valencia, IPSA, Yale, Samsung, Ozone | 8,000-20,000+ |
| Regular Locks | Atom Locks, Jainson Locks | 700-4,000 |
| Hardware for Digital Security of Data* | Generic | 2,000 onwards |
Credit: TechSci Research Consisting of Wi-Fi router, smart home app access, secure guest access, separate network, secure firewalls, safe networks