While carnations and confectionery still make the cut, practical gifting options such as gadgets and gizmos, home decor, and feel-good beauty hampers are gaining popularity
Namrata Kohli | New Delhi
Valentine's Day is a great excuse to slow down and remember the things you love so much about the people in your life–and let them know about it. Post pandemic, the V-day gifting trend is headlined by things that have functional use. The mood is veering towards utilitarian ideas and many want to go beyond the cliched flowers, predictable teddies and boring mugs.
Date at home
You can create the right atmosphere within the confines of your home with ambient lights, fragrant candles and diffusers. E-commerce portals are offering everything from electronics, home decor, fashion and beauty essentials, and accessories.
Flipkart has seen an impressive jump in the demand for electronic items, furniture, grooming products, food and nutrition products, and fashion accessories. Says a Flipkart Spokesperson: "The Flipkart Plus Valentine's Day store will offer exciting rewards on OKCupid, Dominos Pizza and other partners, where customers can spend their SuperCoins and avail rewards. While the demand for chocolates and instant cameras rose as much as 2x each in the run up to the Valentine week, other categories such as jewellery especially rings and jewellery sets, men's formal wear, fashion wearables and wrist watches are gaining popularity as we come closer to the occasion." He adds that many brands have introduced Valentine's Day-focused special offerings across grooming, haircare, and bath and shower, fashion combos and chocolates to help customers choose from a vast selection.
Home and living items, bespoke art pieces and personalised gifts are doing well at portals such as Etsy.com. Says Himanshu Wardhan, MD, Etsy India: "Personalised gifts have been the No. 1 search term on Etsy in 2020 and global buyers cannot seem to have enough of them, and this is true for Valentine's Day as well." A block-printed cushion with quotes or names embroidered on it, handcrafted jewellery and printable typography (digital prints of unique love and inspirational quotes) are quirky but fun options to gift to your loved ones.
At Ferns N Petals, you have a range of options such as cushions, magic mugs, bubble clock, water bottles, photo frames, couple lamps, jewellery, perfumes, personalised electronics, and rose quartz wish tree. Says Manish Saini, COO, E-com Ferns N Petals: "Although flowers and cakes are witnessing natural growth, categories like cosmetics, chocolates, perfumes and electronics have recorded an unprecedented growth in advance orders. This year the trend of combos is picking pace."
Prices have rationalised. A Snapdeal spokesperson says, "Gift items this year are priced approximately 10 per cent lower on average than the past few years. This is largely due to growth and greater availability of value selection on the platform. Year 2021 calls for more practical Valentine's Day gifts." Recent searches and purchases on Snapdeal show that while popular items like soft toys and chocolates still get added to carts, users are inclined towards meaningful gifts that bring everyday value. Popular items for gifting range from comfy lounge wear to tech accessories like mobile phone stands and Bluetooth earphones, external microphones and cameras for desktops.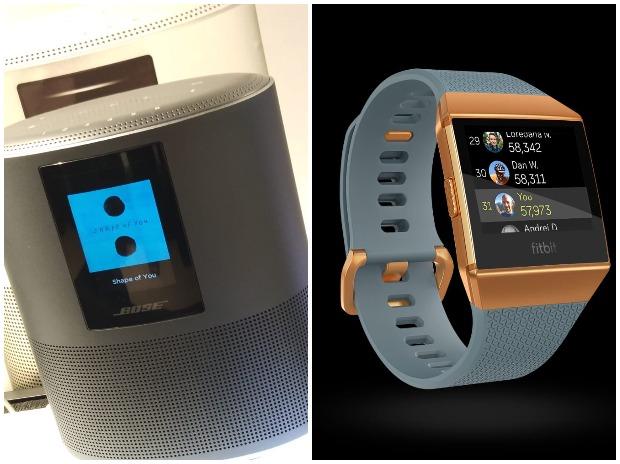 Gadgets and gizmos such as Bose speakers, smartphones, laptops, headphones, tablets, cameras and smartwatches are trending as gifting options this Valentine season
Love for technology
Smartphones, laptops, headphones, tablets, cameras and smartwatches are a rage this season. Even audio products are clocking big sales. Hi-end earphones, wireless speakers with a selfie stick, power bank are excellent gifts and digital photo frames are considered items of great utility. Some of the bestsellers include Amazon devices such as Echo Dot (Rs 4,499), Fire TV Stick lite (Rs 2,999) and Kindle (10th-gen) a version that comes with a glare-free touchscreen display that reads like real paper at Rs 7,999.
The love for smartphones continues with improved hardware and faster wireless communication. For 16-year-old Delhi based engineering student Manya Gupta, a new smartphone is all that she wants, "In today's day and age, my Valentine is my smartphone as it allows me to do everything a full-sized computer does and more. I can stay without my friend but not without my phone," she says. Online stores have options at various price points. The Amazon store has Redmi 9 Power at Rs 10,999, OnePlus 8T 5G for Rs 45,999, Samsung Galaxy for Rs 9,999 and other gadgets such as HP laptop (Rs 59,990), Samsung Galaxy Tab A7 (Rs 17,999) and android TV for crisp visuals (Rs 25,000).
A smartwatch is also a thing for the moment. Sample the Apple Watch for Rs 32,900, which will track your daily activities and monitor all your health parameters. They're everything in one: a fitness tracker, a digital wallet and even a phone on your wrist. A smartwatch can also save your life with elevated heart rate alerts and automatically connect you to emergency services if you fall. They are available by various brands such as Garmin, Fitbit, Casio, Samsung, Apple in a price range of Rs 7,000 to Rs 3 lakh.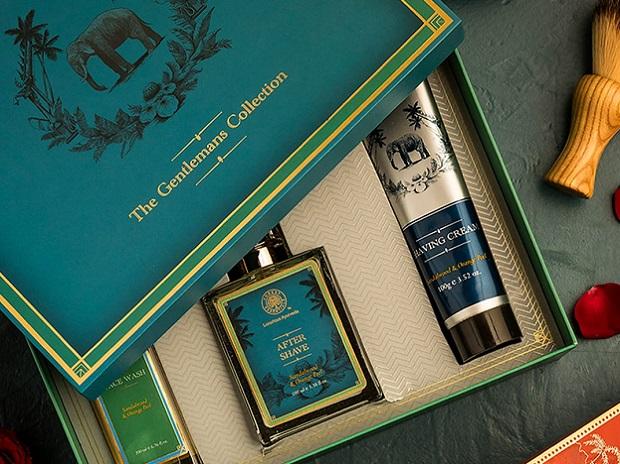 The trend of gifting premium skin, beauty, hair care and other products that fit into the "personal care category" is popular at this time of the year
Head-to-toe beauty
The trend of gifting premium skin, make up, and hair care products are popular at this time of the year. Says a Snapdeal spokesperson: "This year, there is more interest in self-care products like beauty masks and DIY home facials. Korean beauty items like facial sheet masks, derma rollers, serums are among the bestselling beauty products on the platform. In fact, post pandemic, sales of popular beauty items like lipsticks and eye makeup wear have risen dramatically."
Packaging remains a key attribute of any brand on the shelf but people are extremely attentive to the ingredients. Here is a lowdown on some of the popular brands offering grooming and beauty products: Bombay Shaving Company 5-in-1 Skincare Valentine's Day Gift Pack (Rs 549), Forest Essentials Gift Box (Rs 1,625) on Amazon Beauty, Kama Ayurveda Skincare Gift Box (Rs 1,050), SERY Makeup Pouch (Rs 987) and Maybelline SuperStay matte ink liquid lipstick for Rs 455. Gadgets for personal grooming such as IKONIC Blaze hair dryer (Rs1,950) or Philips trimmer (Rs 1,705) are also available.
There has been a surge in women booking salon services for their partners. Says a spokesperson from Urban Company, a home services platform: "While people would traditionally opt for products, we have now a shift in trend towards experiences. Indians want their loved ones to know they are cared for and want them to feel special throughout Valentine's week. Consumers are using gift cards and opting for services such as deep tissue massage, stress relief deep tissue massage, rejuvenation and detoxifying therapies, besides facials and haircut services. These services start from Rs 249."
Valentine staples
Valentine's Day is still not complete without flowers, chocolates, jewellery. It is perfectly okay to send your Valentine flowers early. Ideally, the ones you gift shouldn't be in full bloom as they wouldn't last longer. And it's also fine not to give red roses. Opt for yellow lilies (Rs 100 per stick) as spring sets in, or beautiful purple orchids (Rs 120). The classic red rose which usually costs Rs 20 is valued at anything from Rs 50 to Rs 150 at local florists. However digital mediums have rationalised prices and a box of 12 roses at the likes of Amazon India and Floweraura.com is available for under Rs 500. Carnations, Gerberas, exotic and premium flowers are also for sale and hampers come in wooden trays, premium paper boxes and innovative paper sleeves.
Then you have chocolates. You can choose from three types: one is the milk chocolate, a sweet variety that contains milk powder or condensed milk, the second is White chocolate which contains cocoa butter, sugar, and milk, but no cocoa solids; third is Dark chocolate, which is made by adding fat and sugar to the cocoa mixture. Must-haves for a premium Chocolate are exotic ingredients and customised, dramatic packing – instead of the regular boxed assortments, some fancy pouches and jazzy bags. Go for gourmet chocolates instead of industrial chocolate that use higher levels of sugar (it's cheaper than cocoa), milk solids in place of milk, and artificial vanillin in place of natural vanilla. Says a spokesperson from Lindt: "India is an emerging market for Lindt & Sprüngli and our product portfolio is still growing. We have many offers for Valentine's Day. We have hampers of our iconic smooth melting LINDOR Milk chocolates available in 200g (Rs 800) and 500g (Rs 1,795) packs. Or you can choose a mix of the all-time favourites in milk, dark and white chocolate both in LINDOR Assorted 200g (Rs 800) and LINDT Swiss Premium Chocolate Napolitains 350g (Rs 1,595)."
Old is gold
While there are three shades of gold – yellow, white and rose- the one trending is rose gold with a copper look. Swarovski's pendant in rose gold sells for Rs 5,090 and twist row rings, for Rs 7690. At Mia Tanishq, where the gold is available in 14-carat, a pearl pendant is available for Rs 14,600 while a The cupid edit pendant set is for Rs 31,000. Gifting a diamond ring or a heart pendant is the done thing for dating couples who wish to take their relationship to the next level.
People are buying subtle and simple ornaments- ones that look sleek, minimalist, elegant and compliment the mood of the times, pocket wise and weather wise. And jewellers on their part are catering to every budget. Says Rohan Sharma, Managing Director of RK Jewellers South Extension-2: "We have an exclusive range of heart-shaped diamonds and coloured stones in the shape of a heart and feminine motifs for Valentine's day for people who are looking for something special. These start at Rs 15,000. We also have a variety of lighter pieces for those who want something more subtle. Even when the economy is reviving, we've made sure to provide people with lighter pieces of jewellery that can cost reasonably below Rs 15,000."
Finally, health is at the heart of gifting this Valentine's season. Many are giving their loved ones health and wellness hampers. The pandemic has shaken everyone and, as entrepreneur Anand Ahuja says, "I would rather get shot by the Covid-19 vaccine than by Cupid's arrow."
Table: Valentine gifting options for every budget
| | |
| --- | --- |
| Your budget (Rs) | Gifting options |
| 200-1,200 | Flower bouquets, chocolates, teddies, earphones, bluetooth speakers, powerbanks under 1000, gift cards starting at Rs 500 |
| 1,000-2,500 | Lamps, wireless chargers, premium powerbanks, Cross pens, wine |
| 2,500-5,000 | Alexa, Google Home, Amazon Firestick, travel bags, home appliances such as OTG, Oven, Toaster, Luxury ayurveda and natural product hampers |
| 5,000-10,000 | Soundboards, digital photo frames 10×15 inches with wifi, hi-end earphones |
| 10,000-25,000 | Smartphones by Xiaomi, Oppo, 64 Megapixel , MI, Vivo, Samsung M30 |
| 20,000-75,000 | Bose speakers, Sony headphones, branded pens like Mont Blanc, smartwatches, laptops |
| 75,000-2,00,000 | Jewellery such as pendants, ear studs, rings and watches |
Source: E-commerce portals