Marriage functions today are more intimate affairs, with couples saving on travel costs and elaborate buffets, spending instead on staycation, gifts and personalised events
Namrata Kohli | New Delhi
Reeta Govil wasn't able to find a venue for her nephew's wedding scheduled for November 25 in all of Delhi NCR. Finally, she managed to get hold of a resort at Manesar and without much ado, booked the whole property for two nights.
Weddings are back and how. According to data by wedding tech platform, The Knot Worldwide, the business which dipped by as much as 51 per cent this April, bounced back with a 94 per cent year-on-year increase in August.
Covid-19 has sealed the country's borders, put restrictions on travel and public gatherings, capped the number of invitees to 100 guests (as per latest government regulations), impacting the scale of events in the process. Yet, the show goes on. Of course, the format has undergone a sea change with innovations being made around layout and décor, event itinerary, the choice of location, venue, food format and service.
What the 'Father of the Bride' must know
The 50-100 people format has had a transformative impact on the Indian wedding industry. There are a few "Corona wedding" trends that the host should be aware of.
Small is big. Ankur Sarawagi, India Country Head, The Knot Worldwide, calls the trend of smaller ceremonies the 'rise of the Mini-monies" (mini-ceremonies) and talks about "shift weddings" where guests arrive in shifts. He says, "Separate guest lists are being made for wedding ceremonies and couples are trying to host different groups at each event. For instance, if childhood and school friends are being invited to the Sangeet night, it's the office colleagues for the reception party."
Take the case of wedding planner, Tejveen Kaur, Founder & Creative Director T'zires, who is working on "slotting" functions for all her upcoming wedding projects slated from November 2020 to March 2021. For example, if the mehndi function is scheduled for 12-3 p.m., where all the elders are invited, the next slot from 6-10 p.m. is reserved for the younger guests.
Weddings in the time of Corona are headlined by certain key trends. The venue preferences are changing. Open-air venues are preferred to closed and high-risk air-conditioned spaces. Apart from hotels, couples are also planning intimate weddings at their family homes, estates, friend's farmhouse or even temples, depending on the number of guests and how much they want to spend.
Décor is changing. Rather than spending mindlessly on flowers and decoration, you can now limit the décor. Advises Kaur of T'zires: "Its wiser to spend on the backdrop and photobooth, mandap and table arrangements rather than the whole venue. In short, anything that is instagram-able is worth spending on." With fewer numbers to manage, there is heightened focus on "personalising the experience" such as creating a personalised welcome board on entrance, napkin holders, name tags and other detailing works that are highlighted, says Kaur. Even the guests are more responsive on RSVP.
Indian weddings are adapting to more sit-down affairs, with seating areas spaced out and the size of buffets shrinking from elaborate to minimalist.
Says Ajay Bakaya, MD, Sarovar Hotels & Resorts: "The buffets are tough to manage in Covid times. Any responsible hotelier will make sure one person is standing behind each dish and dishing it out to everyone so that there is no second contact with the service spoon or ladle. The trend is of 'one-person-one-dish' and there is a rise in table buffets where different items are put on each table for 5-7 people." He adds the number game has transformed the wedding scenario radically and no one can be more delighted than the person footing the bill.
Says Bakaya, "The biggest change is in the numbers. So whether you have a 2,000 sq ft hall or a 20,000 sq ft hall, a handkerchief-sized or a two-acre lawn, the fact of the matter is you can only host 50-100 people at a given function. How careful the hotel and the host are, how much they follow and enforce guidelines, are factors that tend to give confidence to the guests. But my suggestion is that don't keep the numbers too high and do not extend beyond one or maximum two functions. These are times to take caution, keep it sober and manageable till things get better."
A face mask for the bride and the groom in colour coordinated hues of red and white. Source: Paran Singh Photography
Financial Outlay
Wedding planners say if people were spending Rs 10 lakh on one function earlier, now they can have three functions in that budget. From charging per person rates, hotels and banquets are moving towards a lump sum deal that includes food, space and décor. Most of the mid-end hotels and banquet halls are charging anywhere between Rs 1.5 lakh to Rs 4.5 lakh while high-end ones charge Rs 8.5-15 lakh for 100 people.
Where are people spending, where are they saving?
Décor costs have come down by as much as 40 per cent, according to industry estimates. The maximum cost savings are on décor, travel and logistics and many are even dumping mehndi and churiwala as they involve close contact.
Spending is happening instead on staycation, gifting and designer wedding attire. Fewer functions mean fewer outfits, so the desire to go for an expensive lehenga for the wedding is much more. Says 27-year-old Delhi-based Vidushi Mehra, who is getting married on October 19, "I would rather buy one expensive designer lehenga instead of five outfits. Since I didn't get a chance to buy my wedding outfits before the lockdown, I am choosing my attire through virtual appointments with designers, while also going for some heirloom pieces like grandmother's saree."
The spends on "gifts" have increased substantially, both in quality and quantity. Some have increased the budget from Rs 1,000 per gift to Rs 2,500 and even Rs 3,000, as well as the number of recipients.
Then there is an additional cost of 10 per cent or thereabouts on sanitising and hygiene. One also has to install sanitisation fans similar to mist fans to make sure all the guests walking in are sanitised without manual effort. Guests are given sanitisation kits instead of welcome kits and asked to procure a medical certificate. After the function, the wedding planning team makes calls to guests to ensure the invitees are in good health. Most of the leading hospitality brands have launched the 'Contact-less experience' and 'Commitment to Clean" programme encompassing all hygiene and sanitation steps taken for a guest journey.
There is also a trend of shifting to a resort or a drivable wedding destination from the home city along with guests for two nights and three days. Typically, in Corona times, in the best of 5-star hotels (hotel room rates are down by 30-40 per cent from pre-Covid times), a two-night three day stay is available for Rs 15,000 for one room, in properties such as Trident.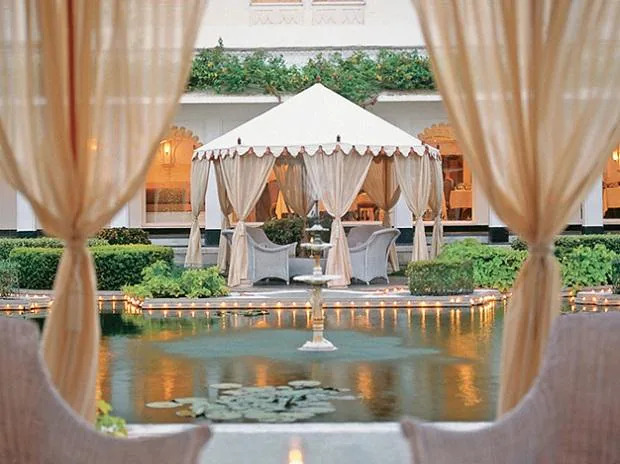 No matter how small the gathering is, your wedding can still be a grand celebration. You can have a close-knit wedding in a lawn or even by a pool in a gorgeous mandap setting. Source: Taj Lake Palace
Destination Weddings
Destination weddings are a big trend during Covid times. Says Renu Basu, Senior Vice President-Global Sales & Marketing, IHCL, "Recent trends show that resorts at drivable distances from cities, for instance Taj City Centre, Gurugram and The Gateway Resort, Damdama in the National Capital Region or Taj Rishikesh Resort & Spa, are witnessing a significant number of weddings." On an average, she says that the non-residential wedding celebrations are usually over two days while the residential weddings have an average stay of two nights. As anticipated, there is heightened sense of following protocols around hygiene and safety and adhering to prescribed guidelines.
Staycation for guests is ideally over two nights and three days. What is the event itinerary and how should it flow? Tejveen Kaur advises, "Sundowner on the day of arrival works fabulously well, with a function like Mehendi or engagement or cocktail. Next day is the wedding, where a few prefer a 'day wedding' and followed by a reception at night, or sundowner wedding followed by dinner reception, as the case may be. If you have three nights and four days, any of the above functions can be taken to the next day."
People often book a whole property. Says an ITC spokesperson: "The size of events has been smaller, and yes, if an option exists, there are some people who seek to buy out an entire smaller hotel for their wedding. We have a number of such hotels such ITC Grand Bharat in Manesar, Gurgaon, ITC Grand Goa, ITC Royal Bengal, WelcomHotel Amritsar, and Welcomhotel Khimsar, among others."
Boutique hotels and resorts in neighbouring cities are also finding takers, what with aggressive marketing by these brands. Take the case of Bikaner's Narendra Bhawan and Jaisalmer's Suryagarh property. An all-inclusive destination wedding package with two nights for 50 rooms at Narendra Bhawan Bikaner and Laxmi Niwas Palace, Bikaner will cost Rs 22 lakh while the same at Suryagarh Jaisalmer is Rs 45 lakh. Says an MRS Hotels spokesperson: "The average length of stay for a wedding is two nights for all three hotels. However, at Suryagarh Jaisalmer, we have seen a change of trend and many guests have started booking a wedding for three nights. We are geared to cater to a larger group and are well equipped to organise a safe and beautiful wedding."
Luxury resorts tucked in the hills located at driving distances from major cities in Northern India, such as JW Marriott Mussoorie Walnut Grove Resort & Spa, are also catching on. Marriott has launched two wedding packages- one is the non-residential package called "Shaadi at the Hills" priced at Rs 4 lakh (for 50 people) while the other is a residential stay wedding package "Intimate Weddings by Marriott", for 2 nights, 3 day stay for 50 people (On double occupancy–25 rooms for 50 pax). It starts at approximately from Rs 40 lakh plus taxes. According to Sachin Mylavarapu, General Manager of the JW Marriott Mussoorie Walnut Grove Resort & Spa, "The set-up of weddings is different as we have limited guests. This allows us to personalise each and every experience and touch point for them at every juncture be it pre-arrival, arrival, during their event and post event as well."
Go Digital Weddings
Technology is helping people save costs and stay safe. Rather than elaborate wedding cards, couples are creating e-invites, and emailing and whatsapping them to guests. Big digital screens are a must-have in Corona weddings. Says a spokesperson from The Knot Worldwide: "Every couple we've interviewed so far has live streamed their lockdown weddings for friends and family who couldn't attend their ceremonies due to the pandemic. Technology is playing a key role in lockdown weddings." To limit exposure, senior citizens again come online to bless the bride and groom.
Virtual weddings have been one of the biggest trends. A hotelier speaks about how he hosted the wedding in the thick of lockdown. The bride and groom were in Chicago, and the host wanted this hotel chain (Sarovar Hotels) to deliver meals "on the same day" and "at the same time" in six different cities in India. They all came online and shared the meals together over a video call. A classic case of 'Virtual Weddings' conducted online between the girl and boy's families and friends, all sitting at different destinations with food planned around the preferences of the families and delivered in a synchronized manner, so that all dine together.
Finally, if there is one thing that summarizes the overall ethos and sentiment of a "Corona wedding 2020" it is the fact as JW Marriott' Mylavarapu puts it "small is the new big, exclusive is the new indulgence and safe is the new luxury."
Table: What a typical 'Corona' wedding will cost you
Expense head
Cost (Rs)
Destination wedding packages, all inclusive, in 5-star hotel/boutique resort for 50 rooms
20-45 lakh
Five-star Hotels/banquets with all-inclusive packages comprising food, space, décor (100 packs) (For specialised theme-based layouts, cost will range from Rs 12-15 lakh while regular under Rs 10 lakh)
8.5-15 lakh
Three-star hotel/Mid end banquet hall with food, space, décor – 100 packs
1.5-4.5 lakh
Staycation package for 2N/3D destination for 20-25 rooms
(Average cost is Rs 15,000-Rs 17,000 per room at five-star properties)
3-4.25 lakh
Mid-End Staycation package, 2N/3D for 20-25 rooms (Rs 8,500-10,000 per room)
1.8-2.5 lakh
Gifting (cost of gift plus packaging may range from Rs 1,000-2,500)
1-2.5 lakh
Photography (Cost per day) 25K for regular and 75K for hi-end photographers
25,000-75,000
Videographer (Cost per day)
25,000-75,000
Choreographer
10,000-25,000
Technology Cost – Zoom Management
25,000-50,000
Virtual Screens (Usually there are 2 screens for 100 people and cost per screen is 20K)
40,000
Source: Market Research