What are the trends in bridal wear this wedding season? Here's a lowdown before you go shopping
Namrata Kohli | New Delhi
"Clothes as text, clothes as narration, clothes as a story. Clothes as the story of our lives. And if you were to gather all the clothes you have ever owned in all your life, each baby shoe and winter coat and wedding dress, you would have your autobiography."
Indeed, this statement by novelist and journalist Linda Grant succinctly captures the importance of clothes, especially in key life events like weddings and baby showers.
As we enter another wedding season, let's take a look at what's trending in India.
What's hot
Soft pastels and sustainable fashion have emerged as prominent trends, with a notable resurgence of floral patterns. The convergence of Western and traditional Indian fashion is steadily gaining momentum amid evolving consumer preferences placing a premium on Indian traditions, according to Pushpa Bector, senior executive director, DLF Retail.
"Statement accessories play a key role in wedding attire, while layered ensembles and personalised dresses are gaining popularity. Product categories like watches, branded jewellery, and ready-to-wear items are seeing remarkable growth, mirroring the modern bride's inclination towards an array of accessories to complement the bridal attire," she says. DLF Retail's flagship event, Wedding Couture Month, at DLF Emporio and The Chanakya, is showcasing wedding collections by celebrated names like Anita Dongre, Abujani Sandeep Khosla, Kunal Rawal and Rohit Bal.
In the days leading up to her wedding, a bride goes through a range of emotions. But every bride is different, and so are her hopes and dreams. In her latest collection, 'A Bride's World', inspired by the woman behind the bridal lehenga and the mind that makes her, designer Arpita Mehta captures a world of emotions and reflections.
Each piece in the collection speaks to a different kind of bride. While a fishtail skirt with detailed embroidery with an exaggerated veil is for the minimalist bride who has travelled the world, a sequinned chocolate saree, paired with a detailed blouse, speaks to one who loves a balance of dark and "lucky" colours. While there is the rich red lehenga for a bride celebrating traditions, sarees and lehengas with ruffle details are for the playful bride looking to add an element of her personality to her wedding trousseau.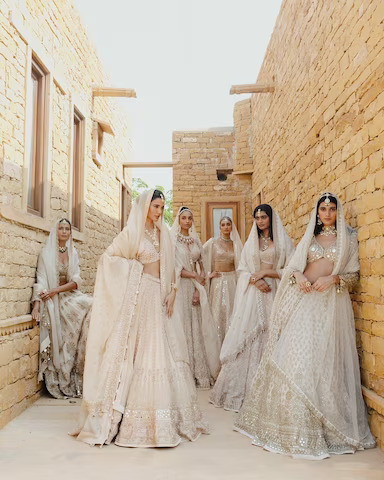 Speaking about her collection, Mehta says: "I encourage my brides to have fun with their wedding wardrobe. Every outfit is part of their memories, so it is important to play with colours and silhouette to reflect the woman behind these clothes." The collection, with intricate mirror work in floral motifs and detailed pearl embroidery, also features cocktail sarees that are fun, lightweight, and easy to wear in lemon, blush, sindoori, green, purple and blue colours.
Rumela Sen, lead editor at Weddingwire India, a global marketplace for wedding-related products, has observed a remarkable shift in choices, with brides now favouring the pristine charm of white and ivory lehengas. "New-age brides are opting for bridal lehengas with crystals, pearl droplets, abstract mirror work, all over jaals for bridal veil, and chikankari for pre-wedding outfits," she says. Sen expects champagne gold in gold thread dabka work to be a big trend this wedding season. For night events, she encourages experimenting with vivid colours. "Heavily embellished shararas, mermaid lehenga skirts, jumpsuits, and statement jackets in Barbie Core Pink and other bold, vibrant colours will reign this season."
Sarees are another popular choice. The draped ones offer an elegant and timeless look, says Delhi-based fashion designer Divya Aggarwal says. "From traditional silk to contemporary designer creations, brides can choose from a vast selection of sarees. Besides these classics, at Divya Aggarwal Studio we are observing to-be brides opting for modern gowns and dresses, especially for pre-wedding events like cocktail and bachelorette parties." As for colours, she says: "Apart from the classic reds, brides are exploring a palette of emotions — from delicate and dreamy blush pinks to tranquil beiges, sun-kissed yellows and nature-inspired sage greens. Some who love to make a bold statement are going for striking fuchsia, crimson red, and even black."
Tips for wedding shopping
You need a proactive approach to find the ideal Indian wedding attire. So, it's best to start early and give yourself the necessary time. Doing proper research on the latest trends and styles will make decision-making easier and ensure you stay in tune with the fashion of the day.
For would-be brides, the selection of wedding attire should also reflect their own personal style. DLF Retail's Bector says: "It is imperative to opt for garments that are not only beautiful but also offer comfort and confidence. Your wedding attire should authentically reflect your unique style, ensuring you are at ease as you celebrate a milestone event in your life."
What about grooms? The trends to expect this wedding season include structured fits, open jackets, and experimental and edgy artisanal embroidery. On how groomswear is headlined by classic suits and tuxedos, Aashira Weddings founder & director Aashish Boobna says: "Classic tailored suits, often in shades of blue or grey, remain a timeless choice. Traditional black tie attire and stylish tuxedos with modern cuts are popular for formal weddings." Bold accessories are in, too. Colourful ties, pocket squares, and unique cufflinks add personality to men's wedding attire. For more relaxed and beach weddings, some grooms opt for linen suits or even dressy separates instead of traditional suits.
There is an extensive palette to choose from — from pastel and unconventional shades like light gold to all-whites, maroon, even classic black. The infusion of cultural allure and a fusion of modern and traditional elements cap the essence of groomswear trends. Whether it's embroidery with zardozi, resham, pearls and mirror work, or the classic elegance of ivory sherwanis, grooms also have a lot to choose from./
Price Chart
Wedding Dress
Price (Rs)
Bridal lehengas
40,000 onwards
Sarees
Banarasi silk 20,000-200,000
Banarasi silk 20,000-200,000
Kanjeevaram/Paithani 30,000-200,000
Wedding gowns and dresses
25,000 onwards
Men's classic suits
15,000 onwards
Kurta Pyjamas
7,000 onwards
Bandhgalas
49,000 onwards
Angrakha sherwanis
34,000 onwards
Printed jackets
11,000 onwards
Statement accessories (colourful ties, pocket squares, and unique cufflinks)
2,000 onwards each