As more people take up the health and exercise system, a wardrobe to practise yoga is becoming essential
Namrata Kohli | New Delhi
The first International Day of Yoga, recognised by the UN, was celebrated in 2015 a year after Prime Minister Narendra Modi proposed the idea to promote India's soft power. Thousands turned up to do 'Yoga for Humanity' on June 21 across the country, spreading their exercise mats at 75 iconic sites such as the Gwalior Fort and Delhi's Red Fort.
The coronavirus pandemic has accelerated the yoga movement: a nationwide survey by meditation and mindfulness app ThinkRight.me found that 66 per cent Indians practice it. Yoga reduces stress, improves productivity, gives peace, and improves relationships, followers say. "The need for mindful living accompanied by wellness measures like yoga, meditation, and positive daily affirmations has been at an all-time high in recent years," said Rajan Navani, vice chairman and managing director of JetSynthesys, which conducted the survey.
The yoga market is booming with offerings in products and accessories across a spectrum of prices on websites and offline stores. Brands selling yoga products include HRX, Urbanic, Decathlon, Amazon.in, Myntra, Adidas, Amala.earth, Seniority.in, Dr Trust, Limeroad, Okhai, Kosha, Flexnest, Proyog, Flipkart, Myntra.
Sellers on Amazon.in get orders for mats, yoga pants, shorts, tracksuits and accessories like belts and wheels—products with prices starting from Rs 199. "Customers have started preferring yoga mats with anti-skid technology and sweat absorption ability. They are also looking towards eco-friendly products, which has emerged as a new trend amongst them. It is interesting to note that a high number of women customers are buying yoga wear, mostly towards the purchase of pants, inner wear, and tracksuits, contributing to a spike in consumer sales among all categories," said Srikanth KN, director, OHL (Other Hard Lines), Amazon.in.
"Brands are moving away from traditional styles and are innovating their products keeping in mind comfort and style preferences of customers. Furthermore, shifting trends towards social media photography during physical activities to showcase a healthy lifestyle on Facebook, YouTube, and Instagram is expected to promote the scope for this type of such products," said Srikanth.
The demand for yoga products comes from metros and towns alike. "In the last six months, the overall Sports & Fitness category has grown by 100%. Nearly 79% of these orders are from tier 2+ cities such as Guntur, Kozhikode, Mathura, Siliguri, Tezpur and Tumkur among others. With respect to yoga, top selling products include yoga pants, mats, blocks, balls, rollers, straps and wedges," said a spokesperson for Meesho, the ecommerce website.
Handy yoga props
Yoga needs minimal equipment. Yoga blocks or bricks aid alignment and support spine or knees when learning a new asana. There are two types of yoga blocks: foam and cork. Foam blocks are lightweight and easy to transport; cork blocks are heavier but durable. Foam blocks are meant for yoga beginners, while cork ones suit the experienced.
Yoga requires demanding postures, so you need to keep your wrists and knees protected. Knee and wrist pads are effective for people starting their yoga journey.
Yoga straps help stretch muscles, improve flexibility and learn difficult positions. If you have long hair, headbands will help you to avoid stray locks. Next comes the yoga mat. It should help you maintain your alignment and not lose your grip while you change your pose and position. Yoga mats made of PVC, TPE, NBR, EVA, Cork and Natural Latex are comfortable for the skin. Fabric mats like cotton, jute and wool can be a bit coarser.
Dressing up for yoga
Yoga wear needs to be stretchable and non-restrictive to provide for easy movement during asanas. "Yoga practice not only involves the union of mind, body and breath but also heightens our connection to the Earth and nature. It's important for our yoga clothes to allow for this amalgamation. This is why one must ensure to choose yoga gear that is only made out of sustainable and natural material for their practice," said a spokesperson for Proyog, which brands itself as an eco-friendly yoga shop.
Good quality yoga gear costs between Rs 2,000 and Rs 5,000. Make sure to choose eco-friendly products and regard them as a one-time investment.
Outfit depends on the yoga style. "For slow-paced practices like Hatha or restorative yoga, loose and comfortable clothing which includes traditional Indian kurta-pyjama or track pants also works," said Namita Piparaiya, a lifestyle specialist and founder of Yoganama.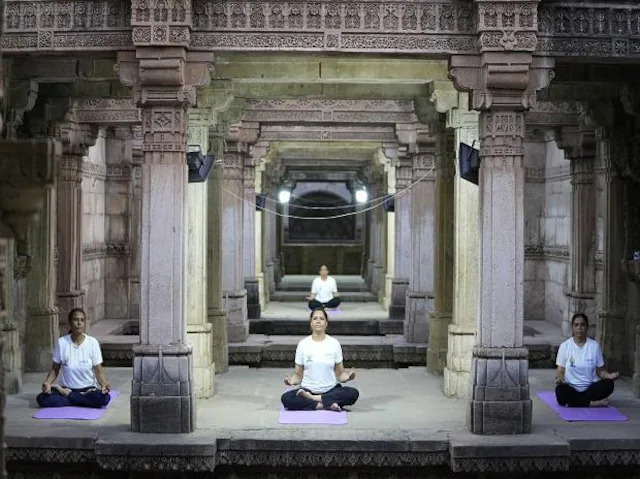 People perform Yoga at Adalaj stepwell to mark International Day of Yoga near Ahmedabad on June 21, 2022. Photo: AP
"For more dynamic styles of yoga like Vinyasa or Ashtanga, modern style leggings are better as they are slick, designed specifically for free-flowing movement, and hug the body which prevents the clothing from interfering with your practice. More fitted clothing also allows the teacher to observe your posture and alignment accurately," said Piparaiya.
Experts advise that if your exercise focus is on yoga then you should practise for 45-60 minutes a day. You can take it up to 90 minutes, as it will allow you to include all three pillars of yoga: Asana, Pranayama, and meditation. Those who exercise regularly can focus more on Pranayama and Meditation and include some traditional yoga stretches as a part of their cool-down practice. They can allocate 30 minutes for yogic breathing and meditation.
What are the right reasons for yoga? People do it to lose weight and for holistic health. Yoga is an excellent stress management practice, says Piparaiya. Ayurveda, the ancient Indian medicine system, says diseases are rooted in the mind, and yoga has a powerful effect on the mind. People combine their yoga and fitness practices. There's no problem in that, as long as they remember to focus on Pranayama and meditation.
As someone said, true yoga is not about the shape of your body but the shape of your life.
Yoga accessories: Price chart
Yoga wear and accessories are available across a band of economy, premium and luxury pricing across online channels and offline stores
| Product | Price Range (in Rs) |
| --- | --- |
| Yoga Pants | 449-4,499 |
| Yoga Shorts | 449-2,499 |
| Sports Bra | 499-2,999 |
| Resistance Bands | 249- 2,499 |
| Yoga Mat | 399-5,999 |
| Yoga Mat Bag | 299-2,999 |
| Non-Slip Yoga Towel | 499-2,499 |
| Yoga Blocks | 299-1,299 |
| Yoga Ball | 399-3,999 |
| Yoga Rollers | 249-2,999 |
| Yoga straps and wedges | 269-2,999 |
| Anti-Skid Gloves & Socks | 199- 1,199 |
| Meditation Bench | 500- 2,499 |
| Yoga Knee and Wrist Pad | 299-599 |
| Yoga Pillow | 249- 1,999 |
Source: Market Research