Now that WFH is the new normal, comfort takes the bench seat over style. However, comfy doesn't automatically mean frumpy
Namrata Kohli | New Delhi
Its casual Friday every day. Some brands are calling it the 9am-to-9pm dressing, something that is so versatile that you can work and lounge, shop and strut around a bit, accomplishing the many errands that come with WFH. As the world reopens, people are donning the ubiquitous face mask, emerging from isolation cocoons to step outdoors–of course with precautions such as sanitising and social distancing.
For the first time in years, it will be comfort over style in winter wear, what with the pandemic playing spoilsport especially for tribe of fashionistas. Otherwise, winter has always meant putting your best fashion foot forward. In fact, if there was a singular grouse from Delhiites, it was that the shortest season of winter demands the largest inventory and space-both for immediate consumption and stocking up. Cosy turtle-necks, a long-sleeved sweater dress, a trendy fur coat or jacket and accessories such as a warm cap, a cashmere wrap scarf and high boots or sneakers… the list is endless. You need to buy layered clothing, with outerwear consisting of coats, jackets, hats, scarves, shawls and gloves or mittens, middle wear with turtles and polo or sweatshirts and warm innerwear such as thermals and socks.
What's trending
Turtle-necks are the best pieces, says Vinni Mahajan, a 45-year-old marketing head in a real estate company based in Delhi. She has turtles or polos in various colours – maroon and beige, black and mustard, neutral and white, brown and soft pink. "You could team them up with jeans, jeggings, ankle boots, dresses and just about everything. Turtlenecks are my best friends in winters – they cover your neck, keep out the wind and also look trendy when paired with the right track pants," she says, adding that they're also perfect for layering in winters and look great when worn under jackets and coats. You can also accessorize them with scarves to add colour and style.
It is important to have a set of smart body hugging woollens. Tanvi Malik, Co-founder of FabAlley advises building a capsule of these in separate colours, natural, neutral tones, such as a black, a tan, a beige, an ivory kind of turtle neck or crew neck sweaters, or even full-sleeved knitted tops that will stick to your skin. She says, "what's really important for winter wear is to have a capsule of separate/standalone 10-15 top and bottom wear that you can juggle and pair with different things. As long as you have your neutrals in place, you can always add as per occasion and tweak it. So if I have a black turtleneck, I will team it up with a colour pop blazer if I have an in-person meeting or even a zoom call. If I am stepping out to run some errands, I will throw an open-front cardigan, maybe a cosy muffler or a scarf. But if I am stepping out for the evening, I will team that same turtleneck with a fitted skirt and woolen stockings and boots."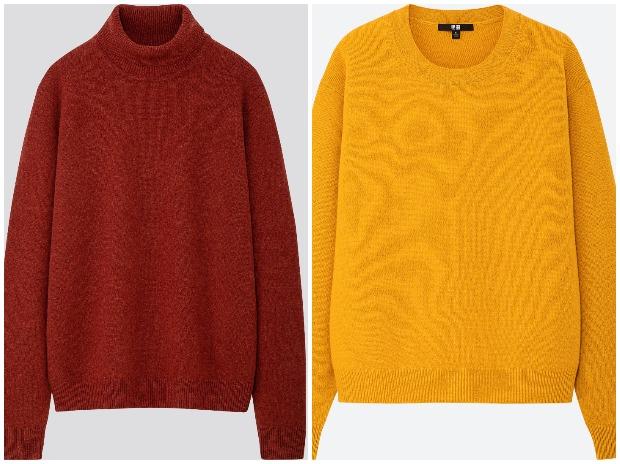 Turtleneck long sleeve sweater for men (left) and crew neck long sleeve sweater in yellow for women, both made in premium lambswool. Picture Courtesy: Uniqlo
Utility over style this year
This winter it is ease over elegance as people WFH. Many are now more inclined towards buying oversized pullovers and sweatshirts that give them ultimate comfort. Sweater dresses are a rage this season. Says FabAlley's Malik: "If you go by the trends of the past few years, we usually do colour pop blazer suits as well as leather coats every season, but this year we have skipped them, as people aren't going for formal wear. Instead, the focus is on a lot of easy chunky mix of sweatshirts, cardigans and sweater dresses in which you can be comfortable yet warm from day to night." Even for evening wear, retailers are stocking simple party dresses for moments when people step out to meet their close friends and family during the holiday season. Says Malik: "This time around we have not done anything blingy, anything skimpy- we have seen people valuing comfort over style."
Athleisure rules men's winter wardrobe as it's clothing you can both work out or lounge in. Usually made from flexible fabric, an athleisure outfit can look semi-professional while keeping you cosy as you working from home. Says Armaan Malhotra, a 35-year-old Gurugram-based IT professional: "I may not be meeting people in person, but I still have to be on video calls with colleagues and teams—and I don't want to look like I just rolled out of bed. Joggers are my go-to thing as they are flexible, lightweight and great for working from home or running under the mid-morning sun. Most of the tracks have an elastic waist and you need some extra room after indulging in some WFH snacking."
Performance wear is trending strong. Office wear is no more about dressing up, but about performance and comfort with multi-tasking ability. Says Samresh Das, Design Manager, Numero Uno: "When it comes to bottom, jogg jeans and the fleece and terry track pants are perfect, easy to handle and easy to carry for a one-mile look. You can just hop around in them and do multiple tasks." He says fresh pastels are the new dope for men and various brands are offering colours in blue, peach, apricot and minty green. Of course, nothing can replace the classic colours like navy, khaki, olive, black.
Choosing a piece
Designers say that it is best to wear what is practical. Getting dressed for work is an important part of your day and now that working from home is the new normal, a comfy outfit isn't just nice to have but a necessity too. Comfy doesn't automatically mean frumpy though.
Winter wear must have a flattering fit, yet be lightweight. Take the case of Uniqlo knitwear collection that includes fine merino, cashmere, lambswool and cotton cashmere for men and women. Says 47-year-old telecom professional Ashima Sethi, who lives in Dwarka: "I love their signature soufflé yarn jumpers and cardigans that sit effortlessly on the body. The brand addresses the issue of bulkiness of winter wear by using its heat tech to ensure the garment is all lightweight."
What kind of jackets are trending nowadays? Says Numero Uno's Das: "Puffer jackets are the ultimate option for WFH. These are comfortable, warm, easy to handle and store. What best could be other than a fleece sweat with a kangaroo pocket. They are stylish, super comfortable and have flaunt factors with the add on graphics to choose from."
Tough and thick jackets have been replaced by light and softer ones. As one stylist puts it: this year people will explore the softer side of power dressing with some even dumping conventional jackets for easy cardigans. Says Harkirat Singh, Managing Director, Aero Club (The Maker of Woodland and Woods): "since fewer people are attending office this winter, they prefer comfortable yet trendy wear. Winter wear made of light yet extremely warm material can be used at home as well as occasional visits to the office. This season, Woodland has brought a very lightweight fabric that warms the body very efficiently. Apparel that speaks comfort and footwear that can be used to walk at home and can trend in the office as well, form a part of this year's winter collection." Woodland has launched a variety of jackets under HeatLock, InfraLite and StormBreaker in a price band of Rs 5,000-10,000.
Instead of hats, it's the era of soft and lightweight winter woollen caps. Scarves and mufflers are the ubiquitous fashion accessories that will complete any outfit. The winter boots have been the staple of those used to strutting out with style outdoors, the new flavour this season is the high-top pair of comfortable sneakers with a sporty look. Retailers have launched other variants. Woodland has special range of BOA closure system shoes that provide warmth and durability both indoors and outdoors.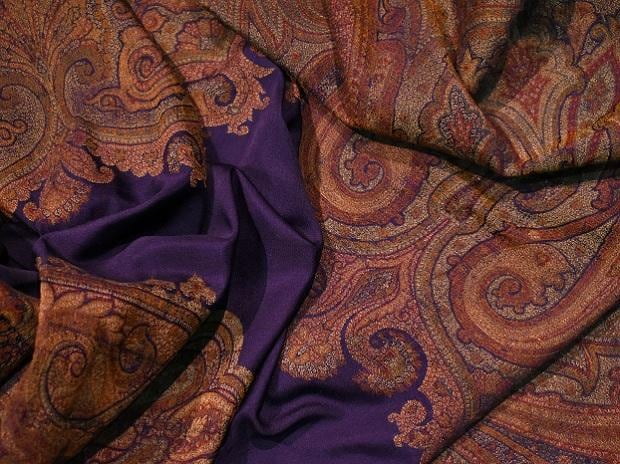 This purple pashmina shawl valued at Rs 70,000 has Bangalore silk woven in a traditional Banarasi loom while the pashmina yarn comes from Kashmir. Picture Courtesy: House of Three
Fashion plays second fiddle
Finally, designers and industry insiders speak about rejecting fast fashion and opting for sustainability. When people went through difficult times after the 2008 Global Financial Crisis, excessive trends such as maximalism fell out of favour. Minimalism complements sustainability and customers haing less disposable income should look to buy classic staples with longevity.
As advocates of slow fashion and heritage textiles, many designers encourage people to buy local, invest in classics that stand the test of time and leave minimal carbon footprint in the manufacturing process, as against cheap alternatives that generate waste. Sounak Sen Barat, Creative Director and Co-founder, House of Three, talks about investing in pashmina. Says Sen: "Our Kalgi collection has Pashmina silk blends woven by award winning Banarasi weavers, where the pashmina yarn is from Kashmir, the silk from Bengaluru. Prices vary depending on the purity of the textile. A pure cashmere pashmina shawl needs the hair fibre of three to four goats to make. It is time consuming and the raw materials are limited. Hence the high price. You also get variants with silk blended in at the weaving stage, which are equally luxurious and almost as expensive. Cheaper versions are made of viscose or polyester, where the cashmere may not be genuine. They are also not woven on a handloom and are made on semi-automated powerlooms."
Finally, this year has added one more winter wear fashion accessory that is a must have and that is a winter mask. They come in tweed, knit, fleece and dense weave even covering ears apart from nose and are more like fleece blankets for the face.
Winter wear indicative price list
| | | |
| --- | --- | --- |
| Woollen wear | Brands | Price range (Rs) |
| Sweaters | H&M, Van Heusen, US Polo, United Colors of Benetton, Fab Alley | 1,500-2,800 |
| Sweatshirts | H&M, Van Heusen, US Polo, United Colors of Benetton, Forever 21 | 799-2,399 |
| Hoodies | H&M, Van Heusen, Monte Carlo, United Colors of Benetton, Forever 21 | 1,695-1,999 |
| Shrugs | Vero Moda,.Marks & Spencer, FabAlley, Forever New, US Polo Assn | 1,800-2,699 |
| Thermals | Marks & Spencer (Top), Marks & Spencer (Bottom), Van Heusen (Top), Monte Carlo (Top), US Polo Assn | 539-1,699 |
| Jackets | Fab Alley, Van Heusen, United Colors of Benetton, Wrangler, Park Avenue | 2,700-4,999 |
| Blazers | H&M, Van Heusen, Peter England, United Colors of Benetton, Allen Solly | 2,299-5,999 |
| Cardigans | H&M, Monte Carlo, GAP, MANGO, Levis | 799-2,599 |
| Capes | GAP, Athena, FabAlley, Forever 21, Flying Machine | 999-3,999 |
| Robes | Amante, Clovia, Zivame, Adorenite, Catnap | 1,299-3,500 |
| Mufflers | Van Heusen, Alvaro Castagnino, Tossido, Vozaf, FableStreet | 999-1,495 |
| Shawls | Monte Carlo, Pashmoda, Sangria, Weavers Villa, Indo Era, House of Three, Ahujasons | 1,099 to a few lakhs |
Source: TechSci Research