Lower interest rates, stamp duty rebates in some states, flexible payments and most importantly, more time to visualise and create a dream home spur consumer interest
Namrata Kohli | New Delhi
One positive outcome of the coronavirus spread is magnification of human imagination, especially when it comes to sprucing up the home. This is because one's house is no longer just a castle, but has morphed into an office-cum-gym-cinema hall-cum-many other things rolled into one.
But in order to accommodate these luxuries, one needs more space. Which is why you will see many who were looking at a 3BHK earlier, willing to stretch a bit and pick up a 4BHK instead, while those fixated on 4BHK earlier moving up a notch to acquire a villa or penthouse. With more time to think and more needs to fulfil with work-study-play-fitness out-of-home, people are investing in bigger, better and more efficient homes.
Market data suggests that there has been significant traction in luxury housing in the Rs 5-50 crore price band. Says Anuj Puri, Chairman – ANAROCK Property Consultants: "We are definitely seeing an uptake of luxury homes, primarily in the three cities of Mumbai, Delhi NCR and Bengaluru. In Mumbai, the price bracket of Rs 10-45 crore is doing exceptionally well. Momentum has come only during Covid and this was not the case pre-Covid. In NCR, the sweet spot is between Rs 15-25 crore and Bengaluru, Rs 6-10 crore."
Incidentally, most luxury projects are nearing completion, a factor responsible for triggering sales. Besides, people want self-sufficient, upmarket lifestyle homes. Says Puri, "During Covid-19, many of the city elites like, say, South Mumbai people living in old buildings, who'd go to Willingdon club or CCI and access all facilities of fitness, gym, swimming pool, have felt restricted. Their families are pushing them to find some better buildings instead of being "stuck in a bad building." Also, they have a lot more time in hand to explore better options of living, as well as far greater need for space. A combination of these factors is egging them on to purchase luxury homes.
Regulatory changes in stamp duty have also impacted sales of luxury homes. In August this year, the Maharashtra government reduced stamp duty on housing units from 5 per cent to 2 per cent until December 31. Says E Jayashree Kurup, Editor, Magicbricks and Editor-in-chief, MBTV, "On a very high value purchase, a 3 per cent stamp duty cut is huge. That limited period cut is a major trigger. Otherwise why would a Hrithik Roshan buy two apartments? Likewise, there are so many other stars buying super luxury homes in Mumbai currently."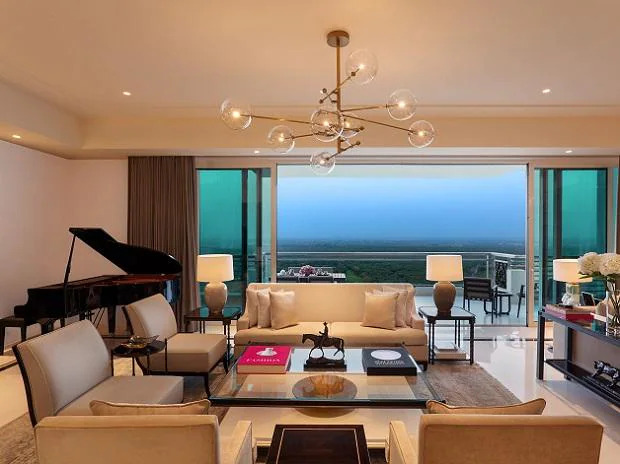 A living room with a view at DLF Camellias. The project has 429 units in 16 towers, with only one unit per floor and residences of 7,400-16,000 sq ft. It also has 14 penthouses
What's trending
It's the return of the villa culture. There is a demand for plotted development and within plots, villas are doing well as many have felt challenged by how others around them are behaving during covid. People living vertically — where you're in an elevator with three other people and the doorman touches your packages before you do — now want to live horizontally.
Take the case of Monika Arora who recently shifted from DLF Icon on Golf Course Road to Tatvam Villas on Sohna Road. Her family had bought the villa spread over 360 sq yards, with basement plus ground plus first floor for Rs 5 crore in 2018 but decided to shift soon after the lockdown. Says Arora: "A villa gives you the feel of an independent house while still providing the benefits of housing society because it is in a gated community. There is ample space to move around, so much fresh air and sunlight, and greater privacy. No sharing of lifts, no footfalls on your ceiling, no complaints when you play music a little louder than normal, no leaked food smells."
Price reduction in secondary sales market has also come as a shot in the arm for luxury homebuyers. Many have entered the market looking for negotiated deals and enquiries have increased substantially in South Delhi areas of Vasant Vihar, Westend, Shanti Niketan, Anand Niketan, Hauz Khas Enclave, and Panchsheel Park (N Block). Says a spokesperson from Anarock: "There are more than ten buyers at a given time – at least twice the pre-Covid-19 levels. They are not ready to settle for just anything even if offered at a lower price. The most preferred home sizes are anywhere between 400-800 sq yards and mostly on the third floor with a large terrace."
The market is no longer investor driven. Says Shveta Jain, MD, Residential Services, Savills India: "The market continues to be dominated by buyers, with the interest from end-users being driven by corrected values and availability of suitable deals in key micro-markets. Distress sales have largely occurred in the high-end segment, especially uber-luxury.
We have also seen some traction for second-home locations over the past few months. The uptake in demand is being driven by end-users with most of them opting for ready-to-move or homes nearing completion in gated communities. These could either be independent floors, plots, or villas."
What's available
In primary sales, some of the key projects trending in Delhi NCR include DLF Camellias (Rs 20 crore onwards), Godrej South Estate (Rs 2.5 crore-plus), Raheja's Leela Sky Villas (Rs 5 crire-plus). Key luxury homes in Mumbai include Sheth Creators' Beau Monde (Rs 14 crore-plus), Indiabulls Blu (Rs 6 crore-plus), Lodha Altamount (Rs 40 crore onwards), Kalpataru Ltd Ten BKC (Rs 5 crore-plus). Bengaluru has Phoenix One (Rs 2.5 crore), Sobha Indraprastha (Rs 2.3 crore), Phoenix Mills Kessaku (Rs 4.5 crore), Prestige Leela Residencies (Rs 5 crore).
There were remarkable sales which picked up in super-luxury housing project 'The Camellias' in Gurugram, from June till date, 20 units of The Camellias worth close to Rs 500 crore have been sold. And these ranged between Rs 25-50 Crore, according to a DLF spokesperson. The Camellias has 429 units distributed across 16 towers, with only one unit per floor and residences of size 7,400 sq ft to 16,000 sq ft, along with 14 penthouses. A huge draw is the canopy of 25,000 trees over 200 acres and landscaping with two signature golf courses by Arnold Palmer and Gary Player as well as club house, concierge services, in-house catering and other lifestyle amenities. There was renewed interest from prospects who had seen these properties in the past, and decided to close the deals now. Says Aakash Ohri, Senior Executive Director, DLF Home Developers Limited: "We have not just clocked healthy numbers for our offerings in the luxury segment, but have outdone ourselves in the super luxury segment, with numbers far higher than what we did in Q3 and Q4 of FY 19-20." Enquiries were for bulk units for luxury condos on the Golf Drive from embassies, to house expats. Says Ohri, "We noticed a lot of demand in the form of enquiries during the lockdown for immediate movement at Golf Link super luxury residences, Magnolias and Aralias. This was largely, because a lot of people living in bungalows or standalone homes, realised the kind of challenges they faced during the lockdown in terms of facilities and services, which were carried out seamlessly at the Golf Links residences. As a result of this, we introduced a luxury rental programme that brings together like-minded families (be it owners or tenants), with similar interests."
Project Phoenix Kessaku in Bengaluru has seen an increase in walk-ins and good sales in the past two months alone. This contemporary luxury project, with many lifestyle amenities such as a rooftop jogging track, an infinity pool, multiple sports areas and three onsite clubs, is at a prime location on No. 1, Dr Rajkumar Road, Bengaluru. Says Sunaina Kohli, Senior VP-Sales and Marketing, Phoenix Kessaku: "After a prolonged lull in demand for high end residential properties costing Rs 5 crore and above, the market seems to have regained popularity with buyers realising during the lockdown period, the importance of larger spaces within their homes, as all members in the family require dedicated individual space for WFH or SFH (study from home)." She says the three clubhouses within the Kessaku community are the biggest draw.
In Central Delhi, 'The Amaryllis' which has Versace-branded apartments and other luxury units have done well. Says Harsh Vardhan Bansal, Director, Unity Group: "There was phenomenal response during the past six months and the first phase (Rs 2-3 crore due for possession in March 2021) is now fully sold out. There are enquiries for other units worth Rs 5 crore, and Rs 7-15 crore. After corona, people are not spending on foreign travel and parties, and all the money is now going into buying homes. Everyone wants a big house with a balcony, bathroom, room for each member so that even if you are quarantined, you have your own space. People want flexible home designs and in the second phase, we are launching the 'design your home' concept."
Gated communities for their vantage of safety and security are becoming sought after. Says Niranjan Hiranandani, Founder-Chairman, Hiranandani Group and National President of apex body, Naredco, "The importance of green ecosystem and ample open space are redefining the new luxury along with bouquet of premium amenities and fixtures provided by the developer." Their projects at Powai and Thane–Hiranandani Gardens, Atlantis, One Hiranandani Park, Hiranandani Estate (all Rs 3 crore onwards)–are doing particularly well.
Pitfalls to watch out for
Always take a bank loan, advises Magicbricks' Kurup. "When you buy a luxury property, take bank loans because banks have to do their due diligence. Go with developers with a good track record and a history of delivering projects. In today's scenario, all developers have been late. The delay notwithstanding, look for one who has a history of building good quality properties and maintaining them. Go to their earlier projects and see if they have created luxury projects and are maintaining them. Luxury is all about taking services for granted and if later, if you have to fight for a panel on the door, it simply takes away from luxury experience."
One needs to check if the developer has the financial wherewithal to complete the project, and the experience of developing a luxury product. Says Puri, "Buy into a property which is ready to move in or nearing completion rather than something that will take 3-4 years to complete. Make the usual checks on title, due diligence, approvals and financial closure of that scheme. Also check who the other occupiers are."
Covid times have also seen the coming of the younger buyer with the age decreasing from the late to the early thirties. There is demand now for extra rooms. While the buyers' age is decreasing, the size, budget and needs have been rising. The incentives by banks and regulatory authorities are helping release the pent-up demand for luxury homes with surprising strength.
Table: Key luxury residential projects in some Indian cities
| | | | | | |
| --- | --- | --- | --- | --- | --- |
| City | Developer | Project/Society | Price (Rs) | Price per sq ft (Rs) | Status |
| Delhi NCR | DLF Ltd | DLF Camellias | 25 cr onwards | 37,500 onwards | Ready to move |
| Delhi NCR | Godrej Properties | Godrej South Estate | 2.5 cr onwards | 17,000 onwards | Under Construction |
| Delhi NCR | Raheja | Leela Sky Villas | 5 cr onwards | 22,000 onwards | Under Construction |
| Mumbai | Sheth Creators | Beau Monde | 14 cr onwards | 60,000 onwards | Ready to move |
| Mumbai | Indiabulls | Indiabulls Blu | 6 cr onwards | 35,000 onwards | Under Construction |
| Mumbai | Lodha Group | Lodha Altamount | 40 cr onwards | 90,000 onwards | Ready to move |
| Mumbai | Kalpataru Ltd | Ten BKC | 5 cr onwards | 40,000 onwards | Under Construction |
| Bengaluru | Phoenix Mills Ltd | Phoenix One Bangalore West | 2.5 cr onwards | 14,000 onwards | Under Construction |
| Bengaluru | Sobha Ltd | Sobha Indraprastha | 2.3 cr onwards | 12,000 onwards | Ready to move |
| Bengaluru | Phoenix Mills Ltd | Kessaku | 4.5 cr onwards | 16,000 onwards | Under Construction |
| Bengaluru | Prestige Estates | Prestige Leela Residences | 5 cr onwards | 16,000 onwards | Ready to move |
Note: Listed prices of properties active on Magicbricks website. Source: Magicbricks Research